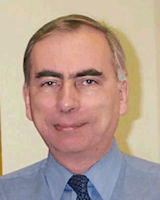 By John Slaughter
I was very pleased to meet Carol Constable and her brother Christopher Saul at our Annual Gathering in October. We have traced their Saul ancestry back to a Robert Saul and Mary (nee Pye) who lived at Mundesley, Norfolk. Robert died at Mundesley in 1834 but his widow lived on until 1874. There is a gravestone to their memory in the Mundesley chuchyard. Robert and Mary had married at South Repps, Norfolk in 1801 but I have never been able to establish Robert's origins. Robert and Mary had three children, Robert, Joseph and John William, all three being baptised at Mundesley. I discussed with Carol and Christopher our Saul DNA project and hope that they will be able to contribute in due course.
Mundesley is also the village that my Saul ancestors came from but despite this I cannot link the Robert above to my own chart or any of the other Sauls in the village. Unfortunately I believe that there are no male descendants of "my" or "the other" Mundesley Sauls so a YDNA comparison does not look possible.
One of the reasons that I believe there are no male descendants is that I have now completed cross referencing the GRO birth indexes with the charts for the years 1837 to 1925. There are no Saul births that can be linked to the Mundesley charts, other than those for Robert. You may be interested in some statistics from this mammoth cross referencing exercise, see overleaf
As time permits I am slowly carrying out a similar exercise on the GRO marriage and death indexes.
Finally you will have seen the excellent article by Richard Saul in the previous journal explaining of the Saul DNA project that he is undertaking on behalf of the Society. We have already heard from a few of our members that are interested in participating and if anyone else thinks they may be able to contribute we would be very pleased to hear from you.
| | | | |
| --- | --- | --- | --- |
| Period | Total | Charted | Percentage charted |
| 1837 – 1870 | 1501 | 1342 | 89.4% |
| 1871 –1900 | 1830 | 1709 | 93.4% |
| 1901 –1925 | 1284 | 1188 | 92.5% |
Table showing the percentage of Saul birth entries in the GRO indexes that are on the society's charts