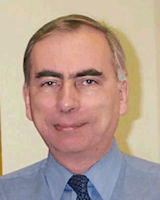 By John Slaughter
I have had a very interesting exchange of information with Susie Pape. Her Sauls are from Thornton, West Yorkshire which is in the Borough of Bradford. Susie's earliest Saul in that area was her great grandfather Thomas Henry Saul who married Freda Wood there in 1917. On his marriage certificate it gives his age as 23 years and his father as George Saul, a decorator. I believe that the couple had five children.
It is however the origin of Thomas Henry Saul that is of most interest and Susie has identified him as being a Thomas Henry Saull who appears in the GRO indexes in Q4 1892 in the Northampton Registration District, the mother's maiden name being given as Wood (as coincidently was his wife's). We believe that Thomas Henry's father was the George Saull who was born at Gayton, Northamptonshire circa 1863/4. This George appears on one of our large Saull charts but currently we have no forward information for him so it would be good if we could verify the connection with Susie's family and add the later generations. From the information supplied by Susie and my own online research I was able to reply to Susie as follows.
"It would appear that George Saull was the one who married in Q2 1889 Northampton Reg District. His bride was presumably Roselia Keeber (you mention she was nee Wood so presumably a widow and Wood was her maiden name). Do you have a copy of the marriage certificate to confirm this? On the 1891 census the family was at 19 Lower Harding Street, Northampton, George Saull, aged 27 years, was the head, a housepainter, born Gayton. His wife was shown as Rose, aged 23 years and born Pitsford, Northamptonshire. The household also includes George, aged one year, a son born Northampton. I cannot find this George recorded in the GRO birth indexes as a Saul(l), so wonder if he was born prior to the marriage of George and Rose. In the GRO birth indexes there are two Saull births in the Northampton registration district where the maiden name of the mother is given as Wood. Thomas Henry (Q4 1892) and Eveline Florence (Q3 1894). George Saull died in March 1892 aged 28 years so can not be the father of Eveline Florence (she may be of a different family but seems a bit coincidental). I have found that an Evelyn F Saull married in 1917 to a John M Digby. They are on the 1939 Register at 109 St Johns Road, Chesterfield where her date of birth is given as 18 July 1894.
Going back to George Saull I found a newspaper article in the Northampton Mercury of 18 March 1892 mentioning that George was a well known long distance runner and once run from Euston Station to Northampton in ten and a half hours! He was also mentioned in the same newspaper on 6 February 1891 as having been summoned for assaulting his wife Rose, but this summons was later withdrawn.
On the 1901 census I found two items of note. Firstly George Saul, aged 12, born Northampton was in a foster home at Barton Latimer, Kettering (see box to right). Secondly at 36 Gas Street, Kettering was a household headed by a Rose Newman, a widow, aged 33 years, born Pitsford. [ED: John can find no marriage certificate for Rose's marriage to a Mr. Newman] Also living with her were William T Newman, aged 5 years and Frederick Newman, aged 2 years both described as sons and born Kettering and a lodger Henry Wrigley, aged 33 years born Kettering. I have not found Thomas Henry or Eveline Florence on the 1901 census.
Then on the 1911 census we find at 13 Workhouse Yard, Kettering a household headed by a Henry Wrigley, aged 42 years, born Kettering. His wife is stated as Rosella Wrigley, aged 43 years, born Pitsford. There are 5 sons in the household, George Saul (21), Thomas Henry Saul (18), Thomas William Newman (15), Frederick Wrigley (12) and James Wrigley (8). The two Saul children are stated as being born in Northampton and the others born in Kettering. The census also states that Henry and Rosella had been married for 13 years, had six children all of whom were alive. I suspect there is a bit of being "economical with the truth" here.
Looking forward I found a Rosella Wrigley had died in 1934 in the Kettering registration district aged 66 years. In your e-mail you mention that Rose went to Bradford with her two sons after George's death and never married again. If that is the case then it raises the question as to whether your Thomas Henry was the one born in Northampton though I know of no other candidate. The release of the 1921 census may answer that question and we may not have to wait too long for this. But for now would be interested in your thoughts on the above. As I say you may have more documentary evidence."
Roll on the release of the 1921 census which will hopefully provide us with some vital evidence to confirm this connection or otherwise!