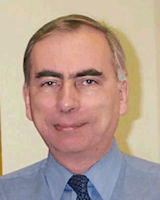 By John Slaughter
Welcome to three new members Patricia Saull, Richard Sawle and James O'Reilly.
Patricia Saull is the niece of one time member Vincent Saull with whom I had some very interesting correspondence in the late 1990's and we were able to link his ancestral line back to Horley in Oxfordshire in the 17th century. Vincent did not however provide a great deal of information about the Canadian side of the family, which descended from Vincent's father Zachariah who had emigrated to Canada sometime between 1911 and 1916. Patricia has now kindly provided me with these details. In August Patricia organised a family reunion in the mountains north of Montreal, in a French-Canadian property purchased by Patricia's grandparents in 1939 and currently owned by Eveline, Vincent's widow. There is more information about the Zachariah and the reunion, including photos on page 16.
Richard Sawle was able to provide me with a whole branch of a tree that we had not previously identified and recorded. This branch starts with James Sawle and Eliza Blandford who had married in Hamptsead, London in 1850. After a brief time in the police, James became a messenger at the East India Company, but was forced by ill health to retire and returned to Gerrans, Cornwall with his family, back to his birthplace. James died in Gerrans in 1872. He and Eliza had seven known children and following James's death Eliza, being a Londoner, took the children back to London.
Their second child James Ehud Sawle married Emily Harding in 1879 and they produced five known children. Census returns consistently gives James's occupation as that of a wine cellar man. Their youngest child Charles Henry Sawle married Elsie Dora Goodchild in 1917 in West Ham and produced four children, the second of which, Frank, was Richard's father.
James O'Reilly is trying to find out more about his Irish connections. His ancestor Thomas Saul emigrated to the US in the 1860's where he married Bridget Delia Considine and had five children. Both Thomas and Bridget died in 1883, he in a boat explosion on the Hudson river. The newspaper reports at that time gave his name as Thomas Joseph Saul, aged about 36 years, a widower (his wife having died the previous year), believed to have been born in Dublin and emigrated to the US about 20 years previous on his own.
They left five orphans, the oldest being Mary Agnes, Jim's grandmother, who was 10 years old at the time of her father's demise. She married James O'Reilly in 1899 as Agnes Saul 'Fennell'. Her sisters all married as Saul so Jim wonders where the Fennell name came from. Was she adopted by a Fennell? Jim is trying to find out more information from the US records. I have been unable to find connections with our Irish data, albeit these are very limited.
Amy Doyle is also searching for Irish connections. Her great grandfather Francis Saul served in World War One and fortunately his records have survived so we have quite a lot of details about him. Francis was born on 8th October 1887 at 3 Hanbury Lane, Dublin to Harry Saul (labourer) and Mary (formerly Kelly). He was a messenger when young and later a dealer and labourer before joining the army in 1914. He served as a Private with the RDF 8th Batt. (12796) and later the Labour Corp (678646). He was awarded the British and Victory medals and the 1915 Star. He was discharged in 1919 and awarded a pension because of an eye injury which affected his vision by 40%. On four occasions he was deprived of pay for being absent from parade or neglecting his duties. In 1917 his wife, Elizabeth, wrote to the army to ask if Francis had appeared on the casualty lists as she hadn't heard from him in four months.
He married Elizabeth Dowd of James' Street on the 23rd August 1914 in St Nicholas Church, Francis Street, Dublin and they had five children: Mary, Francis, Katie, John and Harry.
Francis served prison terms in 1910, 1913 and 1914. The earlier sentences were for profane and obscene language and obstruction. In 1914 he was sentenced to hard labour and fined 10 shillings for assaulting a policeman, Patrick Dowling. On his records he is described as 5ft 6" with brown hair and blue eyes and weighed 156lbs.
Francis died on the 29th June 1922 (one day before Harry's first birthday) of TB in the Allan Ryan Hospital.