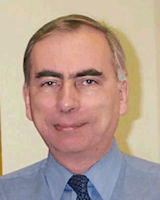 By John Slaughter
Welcome to new member Brandon Saul. Brandon is the grandson of long term member Peter Saul whom some of you may remember. Peter joined the Society in 1992 not long after it was started and remained a member until his sad passing in 2018. Peter was a regular contributor to this journal and attended a good number of our Annual Gatherings. Brandon has all his grandfather's ancestry papers and it is good to hear that he is carrying on the interest in the family's Saul ancestry.
I have been in regular contact with Richard Saul and he has provided me with some very useful documentation that have enabled us to link a number of charts. One such was the chart for the Sauls at Appleby, Lincolnshire which was previously headed by a John Saul and Sussannah Miller who had married at Appleby in 1800 and who had baptised their eight children there. The eldest child Richard had married Ann Ranby in 1831 at Blyton, Lincolnshire and then emigrated to Ontario, Canada.
Richard has corresponded with one of their descendants and from the information provided it seems clear that after the death in 1841 of his wife Susannah, John too emigrated to Canada and went to live with his son. On the 1851 Canadian census there is a household at Adelaide, Ontario headed by a Richard Saul, farmer aged 52 and which also includes his father John, aged 73 years. John died on 16 April 1855 and is buried at Mount Zion Fourth Line Cemetery, Strathroy, Middx Co, Ontario, Canada. A memorial exists stating that he was of Lincolnshire and aged 76 years.
All of the information strongly suggests that this was the John Saul who was baptised at Pockington, Yorkshire in 1779 to Francis Saul and Hannah Thompson, that we had on one of our Yorkshire charts. This now merged chart goes back to a Richard Saul and Maria Nimps who married at Fishlake, Yorkshire in 1722.
Richard also provided me with a copy of the Will of Jane Saul, spinster, of Great Broughton, Cumberland who died in 1845. In her Will Jane leaves the bulk of her estate to her sister Susannah Peile, the wife of George Peile. Also mentioned in the Will is a John Saul of Liverpool, mariner. We believe that this John is her brother, though curiously he is described in the Will as a relative and not as a brother. This John appears to be the one who married Elizabeth Pearson in 1823 and appears on the 1851 census at Claughton Road, Birkenhead as a master mariner, a widower and aged 64 years. Also in the household are his three surviving children Elizabeth, Deborah and John P as well as his sister in law Jane Pearson, aged 55 years and born in Great Broughton. I had this John and Elizabeth as heading a Liverpool chart but am now happy to merge it with the Cumberland chart on which Jane Saul appears. This is one of our Quaker family charts and which goes back to a William Saul and Mary Wilkinson who married at the Holme Quaker Meeing on 3 January 1675.