By John Slaughter
This article was published in the April 2020 edition of Soul Search, the Journal of The Sole Society
John Slaughter, our Research-coordinator for the Sauls continues his series of articles detailing interesting events that occurred in the lives of our Saul ancestors in 1881, as reported in the newspapers. He has now reached August 1881.
The Sheffield Daily Telegraph reported on 24th August 1881 that a Walter Saul, aged 36 years, a carter born in Retford, Nottinghamshire had been charged with assaulting a policeman. The alleged incident had taken place on the previous day at Ecclesfield and a PC Widdop gave evidence that he was on duty at the Grenoside Flower Show and shortly before midnight he was requested by the owner of the park in which the exhibition was held to clear the people from the site. Several men tried to get in again amongst whom was the 'defendant'. He said that he had business on the site but on being asked the nature of his business failed to respond. Being persistent the PC took hold of him to force him away from the entrance. Saul was the worse for drink and struck the PC a violent blow on the eye causing blood to flow from an open wound. Other constables arrested the Walter Saul who was taken to the Hillsborough Police Station where he was locked up. In response to the charge Walter Saul stated that he did inform the policeman that his business was to look after the tents and that he would not have struck the blow if he had not taken hold of him. He was fined 40 shillings including costs. Walter Saul had been born in Retford in 1843 and was the son of Solomon Saul and Charlotte Halliday. His father had apparently changed his name from Saul Solomon.
Walter himself had been in trouble previously when he was charged in July 1866, jointly with Harriet Lee, of stealing wearing apparel and various other items from a John Grimes of South Leverton. Both were sentenced to 3 months hard labour. They had stated that they were shortly to be married and were making provisions for the event. They did duly marry on 8th December 1866. Harriet though died three years later seemingly childless. Walter however remarried in 1873 to Annie Mettam who bore him eleven children, though at least five died as infants. At the time of the 1881 offence he had three young children.
Sometimes the newspaper reports bring to light names and families of which we were previously unaware. One such was an Alexander Saul who in October 1881 was sentenced to a fine of 20 shillings or 10 days imprisonment at Stranraer Burgh Court for a breach of the peace and four previous convictions. Alexander Saul failed to appear in Court. I had not previously done much research on the Scottish Sauls, principally because there are not very many of them. When I looked at the 1881 census for Stranraer I found a household at 11 St Andrew Street which was headed by a Mary Saul, a widow, aged 38 years, an outdoor worker. Also resident was a son John Saul, aged 15 years and William Saul, a brother in law, aged 50 years, a fisherman and born in Ireland. I could find no sign of an Alexander either at Stranraer or elsewhere. However I did find on the 1910 US census an Alexander Saul at San Francisco, aged 44 years and born Scotland, which seems highly likely to be our miscreant. Had he fled to America, prior to his court appearance?
The baptism registers for Stranraer revealed the baptisms of five children born to Alexander and Mary (nee Allison) namely David (1856), Alexander (1859), Mary (1861), John (1864) and Hugh Thompson (1868). There must have been an earlier child named William as on the 1861 census the household of Alexander and Mary includes children William (7), David (5) and Alexander (2). Mary was a widow by the time of the 1871 census, and I discovered that her husband Alexander had tragically been drowned whilst fishing for oysters in October 1867. Newspaper reports at that time reveal that the accident happened in Loch Ryan when three oyster dredgers from Stranraer, namely Henry Lavery, Alexander Saul and Alexander Thompson, were drowned. The three men were on one of a little fleet of boats that were dredging for oysters in the oyster beds of the loch and were nearly a mile off shore. At about 4 o'clock a sudden squall struck the boat, named the Dove, and it quickly sunk. Other boats went to the rescue but none of the men came to the surface or were seen again. It was assumed that the men had got caught in the rigging and were unable to surface. Alexander Saul was known to be a good swimmer. All the men were married and left families.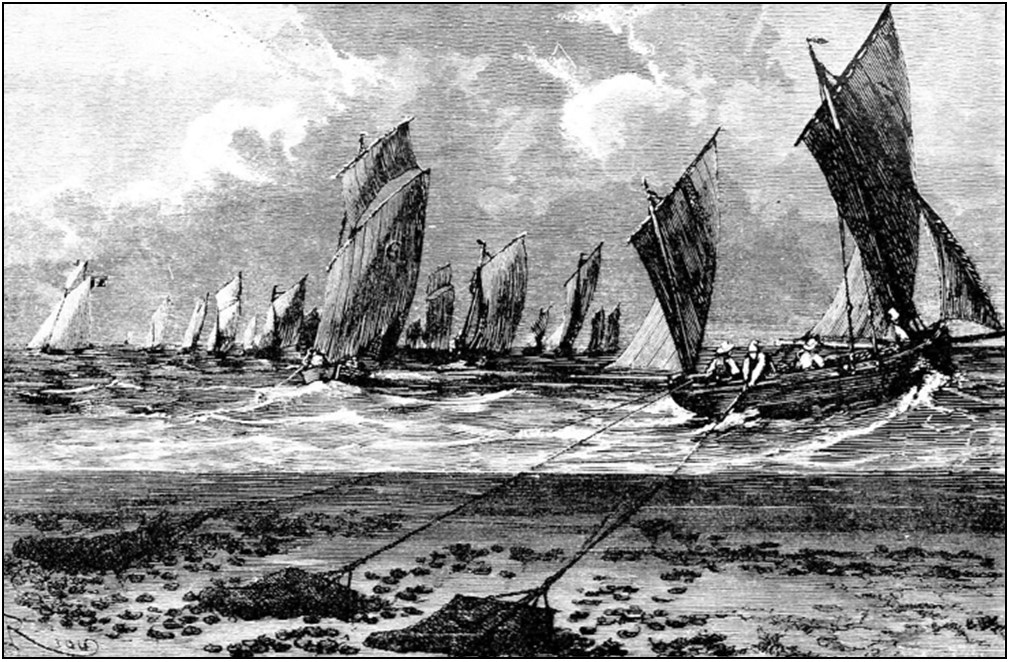 Oyster Dredgers, Popular Science Monthly Volume 6, circa 1875
The registers at Stranraer contain Saul entries back to the 1770s. It was there on 26 January 1779 that a James Saul married Mary McIntrye and their ten children subsequently were baptised.
At Stranraer I also found at a James Saul who is recorded in the Antenuptial Relationship Index. This index is compiled from the Kirk Sessions registers recording those summoned to the ministers and elders of the church to deny or confess their sin as a child had been conceived out of wedlock.
The mother of the child who would be summoned first, she would be sternly rebuked and persuaded to name the father of the child if he was there was not an obvious candidate. The father was then told of the accusation, summoned and would either appear or write, to deny or confess his sin. The session would summon the mother and father of the child back to subsequent meetings until the matter was resolved and the mother, or sometimes the couple, made some sort of reparation, often with the mother standing at the church door for three Sabbaths. When they had fully repented, and been pardoned, each was welcomed back into the church.
The Index shows a James Saul of Stranraer was called in 1775, rebuked on 11 September 1775 and confessed on 19 September 1775. The other party was Agnes Beggam. The actual records may reveal more about the identity of James Saul, but on the face of it he is highly likely to be the James who married Mary McIntyre in 1779.
Finally I came across a photograph of a gravestone at Stranraer erected by a John Saul in memory of his wife Mary Allison who died in 1900 aged 32 years. Also recorded are several sons and daughters, his mother Mary and brother William. John is recorded as having died on 1 July 1938, aged 75 years, so is clearly the son born in 1864 to Alexander and Mary Allison. So father and son must have married a woman of the same name!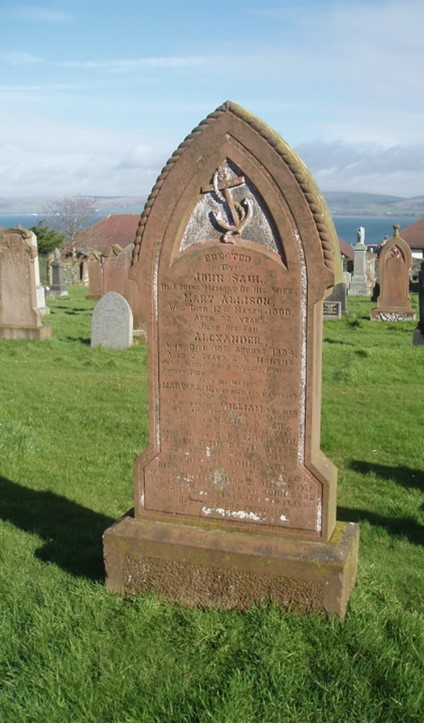 Gravestone at Stranraer erected by John Sayl in memory of his wife Mary Allison commemorating other members of his family