By John Slaughter
This article was published in the August 2019 edition of Soul Search, the Journal of The Sole Society
Some months ago I thought that it might be an interesting idea to write an article for the journal reporting on events that happened in the lives of our Saul ancestors in a particular year. British newspaper archives are increasingly being digitised and being made available online, so using the newspaper archives at findmypast I did a search on the Saul name. I decided that it would be best to take a census year as this would give me a better chance of being able to identify the individuals concerned. So I hit on the year 1881. There were, of course, thousands of results, but the vast majority of these could be ignored. The funeral march "Dead March in Saul" came up many many times, as did Saul as a first name and there were also many instances where Saul was a mistranscription of another word. But sorting the chaff from the wheat still produced some interesting articles.
Harriet Saul, a widow of Bond Street, Ipswich, gave evidence at the inquest into the suspicious death of Priscilla Rosamund Hubbard, also of Bond Street. Harriet said that she had known the deceased for the last three years and she had last seen her alive on the morning of Monday week at about 10am. The deceased was sitting by the fire in her back room and said "Oh Mrs Saul, I am bad". She said that on Sunday night her husband had come home angry and had ill used her. Many others gave evidence and the jury's verdict was of manslaughter, the husband being sent for trial. The trial took place in February of 1881 but on that actual date Harriet was ill and unable to give evidence in person. It appears that she had been examined and cross examined off site and her evidence at the Magistrates Court was also admitted in evidence. Harriet appears on the 1881 census at 20 Bond Street, Ipswich, a widow, aged 54 years, the only other occupant being her daughter Alice (14). She was the widow of Frederick Saul, a shoemaker, who had died in 1878. Frederick was a native of Ipswich though his father John had been born in Lavenham, Suffolk and was one of a few that we know had made that journey.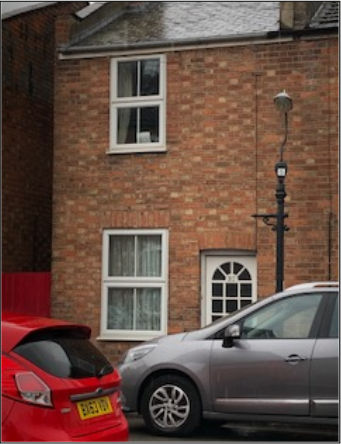 Arthur Saul of 32 Waterloo Street, Leamington appears twice in the same newspaper, the Leamington Spa Courier on 15 January 1881. The first report states that he was awarded 12s 6d for work that he did on a house in Queen Street, where his employer had failed to pay. The second appearance in court was when he got into an altercation with a Henry Sutton, a naturalist over 2s that was due to Saul for a rabbit skin. Saul pleaded guilty to an assault and was fined 4s 6d. I think he must be the Arthur Henry Saul of Leamington who appears on the 1881 census at 4 Portland Street together with his wife Rhoda.
In 1882 they and their young son Arthur emigrated to Australia on board the Duke of Devonshire which arrived in Australia on 2 April 1883. They had seven more children all born in Toowoomba, Queensland before the family moved again to Dunedin, New Zealand. It could be that the events of 1881 played a part in the family deciding to go "Down Under'. Arthur Henry's parents were Henry Saul and Jane (nee Flavel). Earlier generations have been traced back to Horley, Oxfordshire.
On 24 February 1881 a serious accident happened at a block of buildings being erected in Windermere Park, Windermere, Westmorland now Cumbria. Four men were working on a partition wall when it collapsed. The most severely injured was Joseph Saul of Ambleside who was conveyed home on a stretcher. On examination it was found that both his shoulder blades had been broken, he had several severe cuts to his face and head, and it was feared he had injuries to his ribs and possibly internal injuries. The collapse of the wall was attributed to the effects of frost on the mortar, one side having been thawed by the heat of the sun. Another newspaper report states that Joseph Saul was "a native of Ambleside" so I think it is highly likely that he was the Joseph Saul born at Ambleside in 1855 to William Saul and Ann (nee Backhouse). On the 1881 census he was a visitor in a household at Undermillback, Westmorland, unmarried, aged 26 years, a stonemason. Subsequent newspaper reports chart his recovery from his injuries. He received specialist care from a Liverpool doctor and despite the severity of his injuries it was expected that he would make a robust recovery. This would seem to have been the case as he went on to have a full life marrying twice, had seven children by his first and became a successful auctioneer and estate agent, dying in Southport in 1936. Joseph's ancestry has been connected back quite a long way and almost certainly connects to the Saul Quaker families that were prominent in that part of England.
The Norfolk Mercury on 2 March 1881 carries a report that Robert Page of Hanworth, shopkeeper, sued Samuel Saul of Metton, labourer for £2 2s 2d, the balance of an account for goods sold. Defendants wife appeared and said that she had no dealings with Robert Page for 14 years but this was proved otherwise and had even paid some monies off of the account in 1879. Judgement was awarded, with costs, against Samuel Saul to be paid off at the rate of 2s a month. Samuel appears at Metton on the 1881 census, aged 47 years, an agricultural labourer together with his wife Elizabeth and three children. He was born in Thurgarton, Norfolk in 1832 the eldest son of Samuel Saul and Sarah (nee Ward). I have traced this Saul line back a further two generations to a William Saul and Mary Waterson who married at Sustead, Norfolk in 1786. As regards the shopkeeper I could not find Robert Page on the 1881 census, but he seems to have been very generous with his credit, and not much of a businessman if he allowed that level of credit to build up.
John Saul, poulterer and fishmonger, of Wellington Street, Aldershot was summoned by the Royal Society for the Prevention of Cruelty to Animals for exposing for sale in his shop after 15th March nine wild ducks and three widgeons. Inspector Roe of the RSPCA had entered the shop and saw the wild fowl. He informed the Secretary of the Society who brought the proceedings as it was contrary to an Act of Parliament to sell wild fowl after the 15th March. The defense included a Mr Franks from whom the fowls were purchased. He proved that the birds were Dutch and not English and did not come within the meaning of the Act. Case dismissed. On the 1881 census John Saul is to be found at 5 Sebastopol Terrace, Aldershot, aged 40 years, born Retford, Nottinghamshire. His wife Annie was aged 25 years and a niece Elizabeth Saul was also resident. They had one servant. John's father was Solomon Saul who changed his name from Saul Solomon sometime around the 1870's and about whom I have previously written.
More next time.