By Richard Saul
This article was published in the April 2021 edition of Soul Search, the Journal of The Sole Society
In an earlier (August 2020) article I wrote about a Joseph Saul who became a Church of England Minister in Warrington and then returned to Greenrow Academy in Silloth where another Joseph Saul – not directly related – was proprietor.
With help from John Slaughter's studies we can now identify his parents and immediate family.
Joseph was the son of Joseph Saul of Giggleswick and his wife Mary Capstick. Joseph of Giggleswick was the son of Joseph Saul of Mawbray. Joseph (Giggleswick) had two sisters, Margaret and Jane. In the history of Giggleswick School it states that Margaret was the daughter of J. Saul the Writing Master. Writing Masters often taught Mathematics and we can deduce from this that this Joseph was indeed the Joseph Saul, 'Mathematician', who wrote the Mathematics books we described in another previous article (April 2020).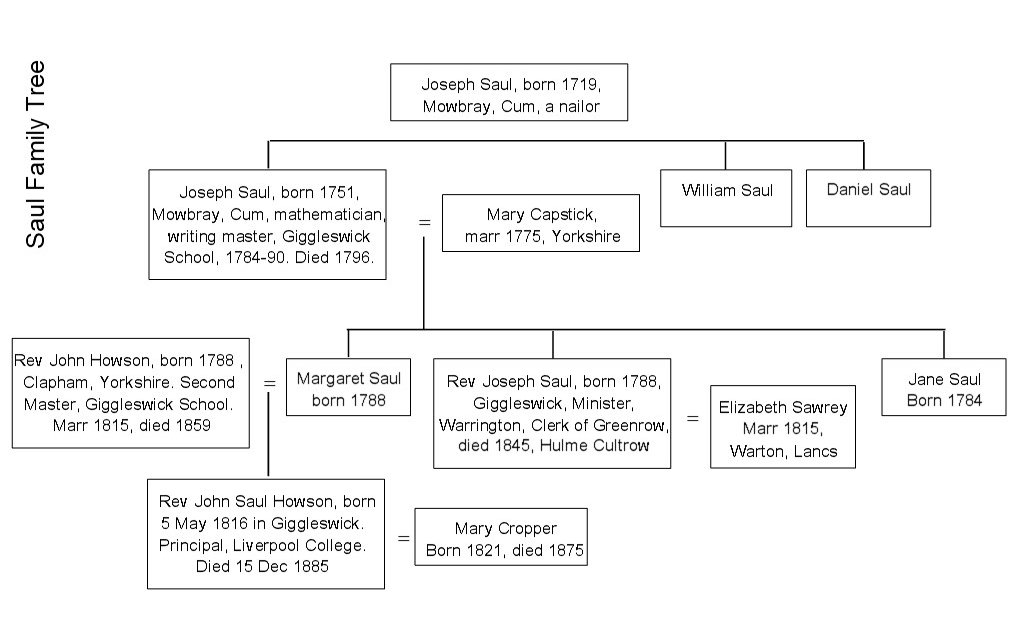 We have additional data that contributes to this deduction. In the late 18th century there was a popular annual publication – The Gentleman's Almanac or Mathematical Repository. (Copies can be found on the web.) In the 1780s there were contributions from Joseph Saul of Giggleswick. In the 1790s there were contributions from Joseph Saul – then of Wigan and of Rochdale, and John Huthersal. We also know that Joseph taught at Wigan and Rochdale after he left Giggleswick died in 1798 after the first editions of his books were published, and that John Huthersal edited the edition published after his death. The Almanac demonstrates the existence of a very active network of top mathematicians.
In a further twist to our researches Margaret, Joseph's sister, married John Howson in 1815, with Joseph conducting the marriage service. John Howson went on to become a Headmaster at Giggleswick School and one of their sons, John Saul Howson, was to become Principal at Liverpool College and later Dean of Chester Cathedral. Incidentally my brother John and I and my son Clive all attended Liverpool College, where one of the Houses is named after John Saul Howson.